October 16th, 2017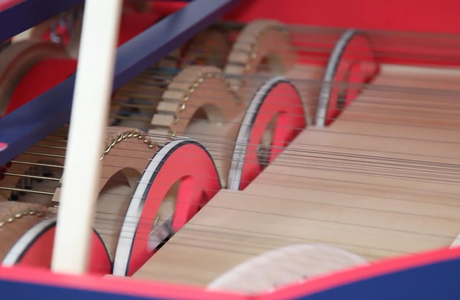 The Viola Organista: Leonardo da Vinci's Invention Comes to Life
Leonardo da Vinci dreamt up an instrument called the viola organista, never built in his lifetime. Then, in 2013, Polish instrument-maker Slawomir Zubrzycki decided to build the first example. The instrument is a hybrid of elements from a harpsichord, an organ, and a viola da gamba. When built, it looks like a harpsichord and has a set of strings. Those strings are not plucked, however: instead, they press against rotating wheels covered in horse hair, using the same mechanism that creates sound in string instruments. Zubrzycki spent more than five thousand hours bringing the instrument to life, using Da Vinci's Codex Atlanticus, a twelve-volume collection of manuscripts and designs, as his guide. Though Zubrzycki will never know what Da Vinci thinks of the instrument once built, he explained at the instrument's unveiling at a concert in Krakow: "I'd hope he'd be pleased." The instrument, when played, produces a unique sound somewhere between an organ and a string instrument. Interested in hearing this one-of-a-kind instrument for yourself? Check out Classic FM's story about Zubrzycki's endeavor <HERE>.
Nationwide Survey in Britain to Address Theater Bathroom Concerns
The Association of British Theatre Technicians (ABTT) is running a survey in the hopes of helping to address "issues of accessibility and inclusivity" when it comes to bathrooms in British theaters. The results of the nationwide survey will be used to provide guidance on venues' bathroom provision. The survey asks theaters of all sizes to provide the number of bathrooms in each building, the capacity of each bathroom, the methods for hand-drying available, as well as other design details. It also inquires about the gender balance of available bathrooms and wheelchair accessibility. The survey has been launched by the standing committee for Technical Standards for Places of Entertainment, responsible for helping to ensure the safety and comfort of the public, staff, and performers in performance venues. Chief executive of ABTT Robin Townley explains: "We hope the survey will help address issues of access and inclusivity. It's about seeing if and what amendments to the guidance are required." Hopefully, the survey will help British theaters provide comfortable facilities for all patrons and ensure that their trips to the theater allow them to focus on the show, not bathroom logistics.
Golden Age of TV Proves Double-Edged Sword for Writers
The increased prestige of writing for television, as the medium enters the era of "Peak TV," has resulted in writers flocking to Southern California in the hopes of making a name for themselves. As streaming services like Netflix continue to expand the television landscape, more and more writing opportunities present themselves: a record 455 original scripted series aired last year (the number for 2017 is expected to top 500). John Landgraf, the chief executive of FX Networks and the man responsible for coining the term "Peak TV" in 2015, explains: "I never would have thought there would be enough talent to cover the number of shows currently being made–and yet there is." The opportunities, however, may come at a steep price: a recent New York Times article features stories from three writers who have dealt with long hours, substance use, and unstable returns in their attempt to make it in the industry. One writer reports how working two jobs left him getting by on three hours of sleep a night, relying on sugar, alcohol, and caffeine to keep him going. To read more about the incredible toll the instability and intensity of writing jobs take on the writers for many hit shows, check out the New York Times article <HERE>.
Trump Declines Invitation to Kennedy Center Honors
A statement from the White House in late August announced that the U.S. President and First Lady "decided not to participate" in this year's
Kennedy Center Honors
, traditionally attended by both figures. The statement explains that the decision was made "to allow the honorees to celebrate without any political distraction." The Kennedy Center responded, thanking the presidential administration and saying: "We are grateful for the gesture." The honorees for 2017 are set to be Carmen de Lavallade (actress, dancer, and choreographer), Gloria Estefan (singer-songwriter and actress), LL Cool J (hip-hop artist), Norman Lear (television writer and producer), and Lionel Richie (musician and record producer). They are set to be recognized during the 40th Annual Kennedy Center Honors on 
December 26th
 of this year, though de Lavallade, Lear, and Richie have declined the invitation. LL Cool J and Estefan have yet to confirm their attendance. Though this year's event will certainly be different than those of previous years, it will hopefully nonetheless prove to be a lovely night of celebrating amazing talents in the art world.